20-30 'W' Rumely Oilpull
---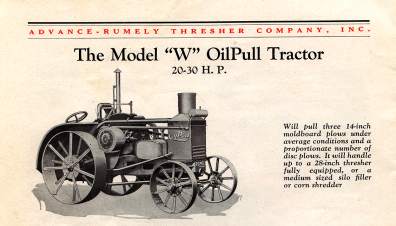 The smallest of the super powered Rumelys, the 20-30 Rumely, first hit production in 1928. When production ended in 1930, 3,952 tractors had been made. Out of that number, 184 tractors made it through the years. That is a 4.65% survival rate. Under Nebraska Tractor Test #141, the 'W' put out 24.9 HP on the drawbar & 35.3 HP on the belt with its heavy duty, kerosene, two cylinder, engine with a 5 13/16 inch bore and a 7 inch stroke operating at 825-850 RPM & total tractor weight of 6,776 lbs. Other specs are available ON REQUEST. For more SN info on the 20-30, CLICK HERE.
---
Back To Oilpull Tractor Page
---
I'd enjoy talking to anyone interested in old tractors or engines!
So DROP ME A LINE BY CLICKING HERE.
Contact us at:
Chris and Rod Epping
12015 734 Rd.
Funk, NE 68940
Ph: (308) 263-4371
---
Back to Homepage
---
---